Gordon Recreational Committee
The Town of Gordon is an EQUAL OPPORTUNITY provider and employer.


.
Parks & Receation Committee Members:
Jesse Smith, Co-Chair
Pam Boettcher, Co-Chair
Town Board Liaison
Gail Whalen, Secretary
Becky Hoehn, Treasurer
Joy Rogers
.
TOWN EVENTS & FESTIVALS:
GOLF TOURNAMENT -
Good Neighbor Days - click here
Winterfest - click here
Sporting Bus Trip Fundraisers - none scheduled
Purpose of Committee:
To serve the interests of the Town residents and children of the community in matters concerning the development and maintenance of the town of Gordon's parks and recreation activities.
To develop an understanding of the issues affecting recreational activities in the community.
Meeting Dates: typically Mondays. The public is always welcome.
Info and Services: click here for printable pdf
Board Agendas & Minutes

Town of Gordon Meeting Schedule - monthly
6:30 pm
Town Board- 2nd Tuesday
Meetings at Gordon Town Hall
9709 E. Cty Rd Y
PO Box 68
Gordon WI 54838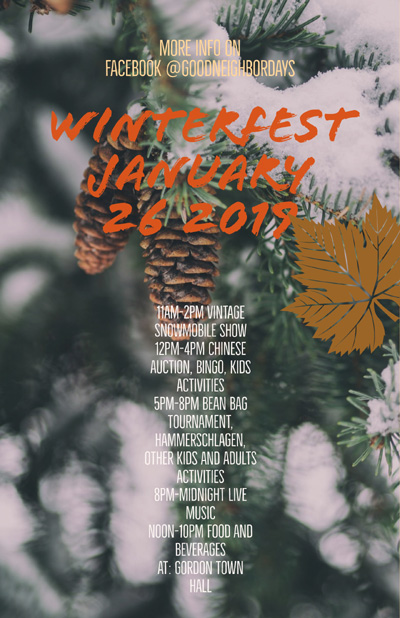 January 26, 2019
click here for details